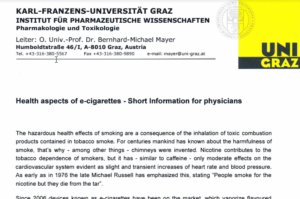 Many smokers who want to switch to vaping or have done so already, ask their doctors for information about vaping and its effects to health.
Unfortunately, many medics don't have sufficient or even, correct information on this topic. Most of them just rely on the biased statements and intended fearmongering of the WHO Collaboration Center for Tobacco Control at the DKFZ (German cancer research center).
Prof. Dr. Bernhard-Michael Mayer, toxicologist at the University of Graz, closes the information gap with his "Short Information for Physicians". He also provides the professional audience with additional information and studies if requested.
His document can be downloaded from our webspace, and vapers are invited to share it with their doctors and other members of health care.
Download here:
Health aspects of e-cigarettes - Short Information for physicians